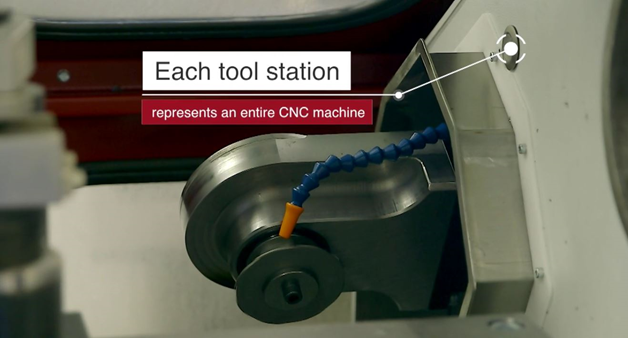 One of the services available from Cambridge Dynamics is the bespoke manufacture of machine parts and precision tooling items using specialist CNC (Computer Numerical Control) milling and turning techniques.
As a team of seasoned CAD/CAM experts hailing from a range of manufacturing disciplines, we have the capacity to produce any number of components, from one-offs to high volume orders – and, if required, our team can undertake the manufacture and finishing of complete assemblies.
So, what exactly is CNC milling and turning, and how might it be of use to you? Read on to find out more about these highly accurate techniques.
CNC Milling
Milling machines feature a cylindrical cutter that is used to shape and drill into certain materials from different angles and at different speeds and pressures in response to a detailed specification. The most commonly milled materials are woods and metals.
The milling cutter can come in a variety of shapes and sizes. Depending on the machine model, this component can use between 2 and 5 axes to create different slots. This enables the device to create anything from simple holes to complex shapes that involves multiple rotations.
At Cambridge Dynamics, we employ CNC milling. This means that all of our milling machines are automated by way of computer programming. Our experts enter the required dimensions and any other relevant data to achieve the tightest possible tolerance.
CNC Turning
"Turning" usually involves the use of a lathe or turning centre to "sculpt" or "carve" a piece of material into the correct form.
In this process, the item to be shaped is attached to a "feeder" and placed inside the machine, where it is moved or rotated as the lathe removes the correct areas of material.
A CNC turning machine can be programmed with extreme accuracy to ensure that the correct amount is removed automatically.
Some types of CNC turning equipment also have milling capabilities, streamlining the process significantly.
Our Services
Cambridge Dynamics should be your first port of call for exceptionally accurate CNC milling and turning. Our team of experts leads the way when it comes to the production of fully featured 3D assemblies of superior quality.
Alongside our turning and milling services, our fully equipped premises enable us to offer a full complement of solutions, from initial machine concept and design, to manufacture, assembly, testing, finishing and delivery.
We can work to commission, assisting you throughout a project or simply providing one-off components.
To discuss anything from the expertly automated milling and turning of precision parts to the fabrication of whole machines, simply get in contact today using our online contact form.
We'll be happy to provide any advice you require or to start working with you on your first order.
The Cambridge Dynamics team is capable of producing high performance parts based precisely on your specifications, so we encourage you to provide as much information and detail as possible while making an enquiry.
We look forward to hearing from you.