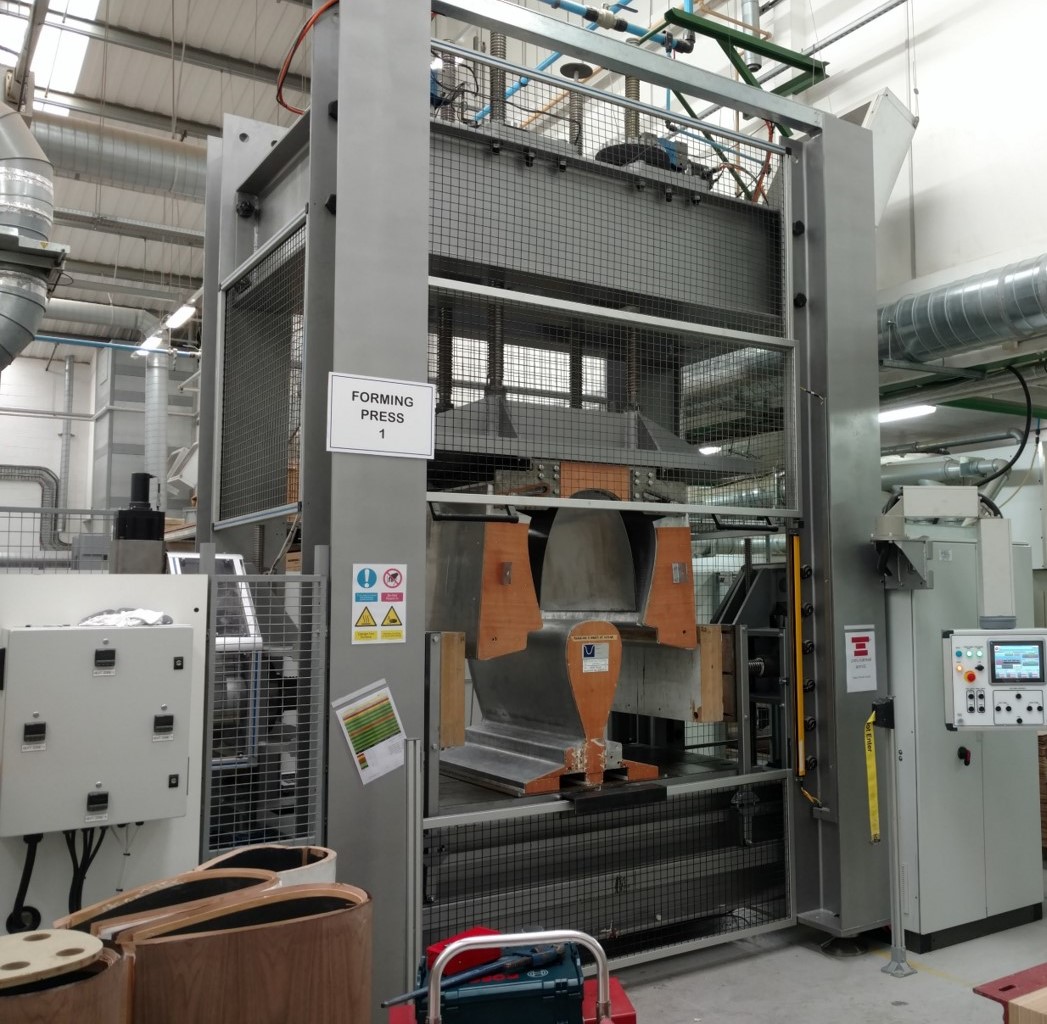 Whether you require the design and manufacture of manual, ball screw or custom hydraulic press machines or you simply require the production of bespoke components and parts – such as specific tooling solutions – Cambridge Dynamics can help you.
We have been a key player in the machinery fabrication industry since 1978. Throughout our time as a company, we have worked hard to remain at the very forefront of technology, leading the way with sophisticated techniques and processes.
Whatever custom press solutions you require, our team will be here to provide assistance, advice and manufacturing expertise.
Here, we explore a little about the presses we produce and operate, while introducing you to a few of our other services.
Custom Press Machines from Cambridge Dynamics
Our team of specialists have significant experience in a comprehensive selection of manufacturing practices, including the operation and fabrication of mechanical, electrical, mechatronic and pneumatic systems.
As a result, we are able to provide our services at any stage of the manufacturing process or for its entirety, from machinery design to the manufacture, assembly, testing, finishing and delivery of a product – whether that be an entire assembly or a single component.
The equipment we are capable of producing includes custom ball screw press solutions, bespoke hydraulic and manual presses and many others besides. These presses can be made compatible with numerous different materials, including metals and composites.
We use British components wherever possible to support local industry and reduce our impact on the environment.
Many of our products are manufactured using advanced CNC (Computer Numerical Control) equipment, whereby detailed data and dimensions are entered into specialist computerised devices in order to automate some or all of the fabrication process.
This allows for extreme precision and the ability to replicate a part or component multiple times without any loss of accuracy – so whether you require a single item or a huge run, we'll be perfectly capable of producing what you need.
Ordering Your Custom Press or Pressed Components from Cambridge Dynamics
If you want to contact us regarding an upcoming project or simply wish to ask a few questions about our services, please feel free to get in touch with us via our online contact form.
When discussing your desired equipment with us, it's important to give us as much detail as possible. This will help us to better understand your requirements and produce a machine, mechanism or component that is of the highest possible quality and accuracy.
We'll be happy to provide you with any assistance or advice required – whether you don't know what kind of equipment you require or you've been working with various presses for many years.
Along with bespoke press solutions, we also work with and manufacture composite presses and assembly presses, and employ long-developed milling, turning, grinding and wire EDM techniques to achieve highly sophisticated results over and over again.
We can even design and produce custom control systems for your new machinery to ensure the most effective operation possible.
We look forward to hearing about your project and finding out how our team of specialists can help you.
FAQ's
What custom press solutions are available?

Here at Cambridge Dynamics, we are somewhat famous for our custom press machines. Since our launch, we have been dedicated to providing our customers with only the best of the best, which is why we offer a range of different custom press solutions to our customers.

We have a range of custom press solutions available including, custom ball screw press solutions and bespoke hydraulic and manual presses (with many others available upon request).

All of our custom press machines are compatible with a variety of materials, including metal and composites. With such a range, we're confident we'll have the solution for you.

Like all of our forming presses, CNC (Computer Numerical Control) equipment is used to achieve ultimate precision that can be replicated time and time again, to create large volumes of components in a short space of time.

Our custom press machines are more than capable of producing high quantities without sacrificing accuracy – with Cambridge Dynamics, you never have to worry about inaccurate batches or botched parts ever again.

We pride ourselves on our expert team who are highly trained in custom press solutions, including custom ball screw press solutions. You'll have the peace of mind that there'll be someone on hand to help you get the most out of your custom press machine.

Did we not mention the type of custom press solution you need? Don't hesitate to chase us for more information, by filling out an online enquiry form for a speedy response. Alternatively, you can email your questions over to enquiries@cambridgedynamics.co.uk and a member of our team will be in touch.
What are custom press machines used for?

Although forming presses can deliver precise results quickly, they're not always appropriate for your specific requirements.

This is where custom press solutions come in.

Custom press machines are used for more unique projects. They are often needed when a variety of functions that a forming, composite, assembly or punch and stamp press would struggle to create.

With technology changing so often, it's hard to know what machinery would be the most effective for your project. Here at Cambridge Dynamics, we can design custom controls unique to your requirements. If you're planning on creating a part, component or section of a tool, but it seems like quite a complicated task, give us a call on 01480 459555 and talk us through your ideas. From here, we can tell you if we can help (which we usually can) and what custom press machine will be most appropriate for you.

A lot of the time, custom press machines are still used to manipulate materials – but they employ a unique process. This could involve a combination of pressure and a custom ball screw press solution, or even a stamp and composite press to create a unique finish for your product.

If you have any questions about what custom press solutions can be used for, then get in touch today. We have a team full of experts who are always happy to pass on their knowledge and give you advice on how appropriate a custom press machine will be for you.
Our experts are highly trained in our available equipment and custom press machines. We can assist you through the whole process to ensure there is minimal material waste – further reducing our impact on the environment.
How does a custom hydraulic press work?

The way custom hydraulic presses work is completely different to any other custom press machine. The metal isn't stamped and doesn't use a custom ball screw press solution, but simply uses pressure to force the material between the two parts of the machine.

Here at Cambridge Dynamics, we use CNC (Computer Numerical Control) equipment to ensure precision and repeatability. To get the most out of your custom hydraulic press, it's vital you give us your exact measurements, wants and needs, to ensure you get the desired results.

A custom hydraulic press works by applying pressure to a plunger, which then pushes fluid down to raise the ram. The combined pressure of the components compresses the material, which can then be crushed, flattened or compressed, depending on your needs.
Custom hydraulic press machines are favoured by a range of industries due to their low maintenance, and ability to produce accurate parts with ease. You have complete control over the results, and the speed can be customised, even during a press session.
What a custom hydraulic press machine does have in common with our other range of forming presses, is that it can produce accurate results each and every time. With Cambridge Dynamics, you'll have the peace of mind that whatever you need can be achieved.

Still not sure about how a custom hydraulic press works? Give us a call today on 01480 459555 to speak directly to one of our experts. They're highly trained in the field of custom press machines and are always happy to give you the help and advice you need.