Control Panel Design & Build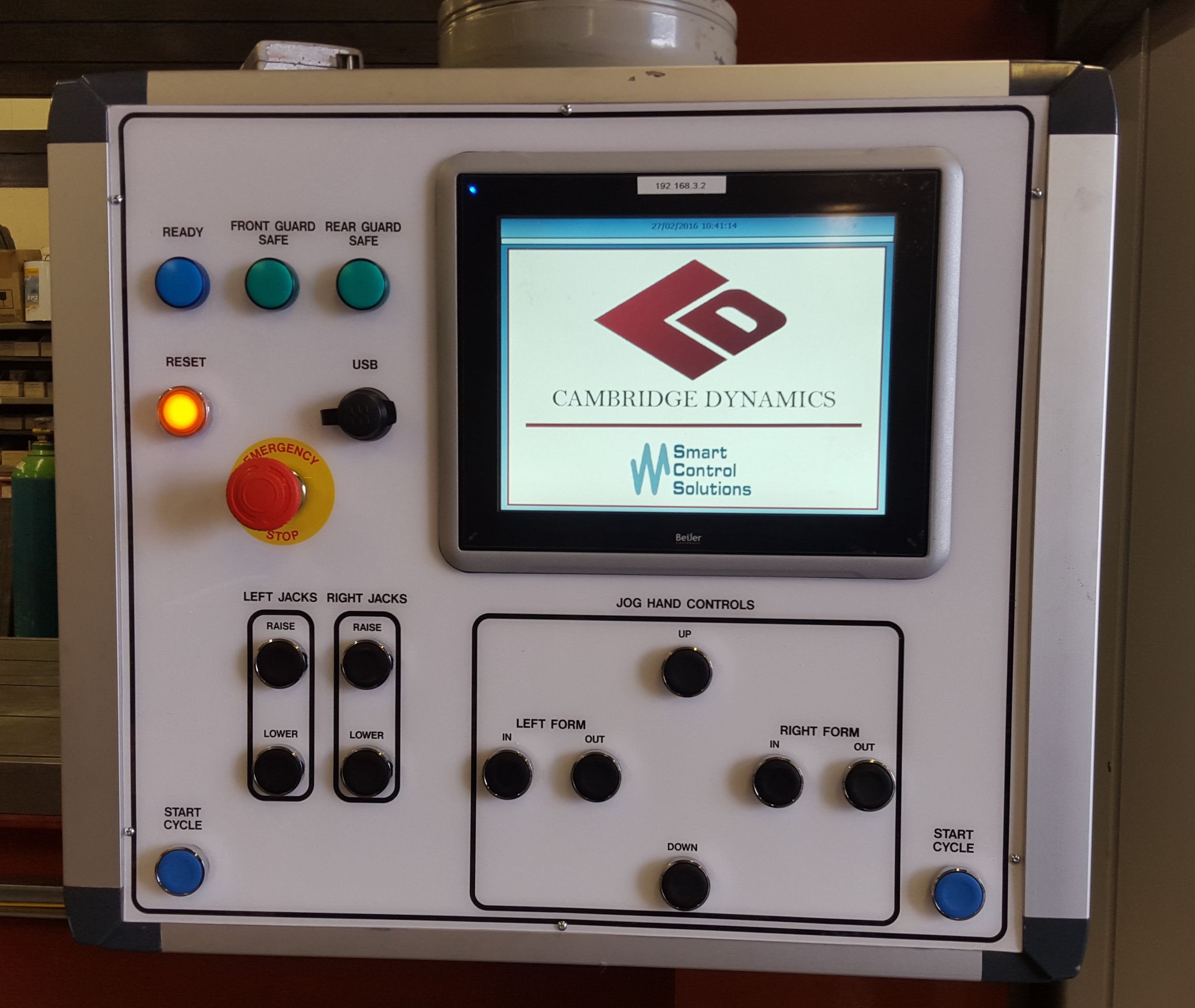 When it comes to the development and manufacture of sophisticated industrial equipment, one of the most vital elements is effective machine control panel design and fabrication.
The best industrial control panels are intuitive, streamlined and practical, as well as durable and secure. They should offer an element of simplicity that enables everyone from rookies to old hands to understand precisely how they can be used and to easily interpret the purposes for which each feature is designed.
The specialists at Cambridge Dynamics have been manufacturing custom control panels and systems for more than 40 years. Here, we look into our well-developed control panel building processes and the related services that we offer.
Purpose-Designed Control Panels from Cambridge Dynamics
Since 1978, Cambridge Dynamics has been leading the field of machine design and innovation. A major player in the fields of bespoke equipment and automation, we appreciate the need for intelligent, purpose-designed controls in order to get the very most out of any and all equipment.
Every bespoke control panel we design and produce is expertly conceived and developed. We are able to provide specialist project management services, sophisticated designs, system manufacture, software creation, complete installation and documentation and ongoing product support.
Whether you are seeking a straightforward means to deliver basic electronic commands or a full automation control panel with CNC g-code interpretation and advanced motion control, Cambridge Dynamics can oversee and undertake the fabrication of your product from beginning to end.
The Specialist Services at Cambridge Dynamics
Each member of our team is thoroughly qualified and experienced in a range of specialisms – including the design, manufacturing and operation of mechanical, electronic, mechatronic and pneumatic systems.
Thanks to our practical knowledge and highly developed understanding of these disciplines, there is no better source for your control panel requirements.
As well as the intended purpose of every control and the context in which each will be used, we make sure to always take into account the environment and conditions in which each piece of equipment will be used.
This means that if your machine is to be operated by individuals wearing protective equipment, for example, we will ensure that potentially obstructive accessories such as gloves will not negatively impact the ease with which one may interact with each control.
How Can We Help You?
Cambridge Dynamics provides a wide range of services, from the development of an initial design brief right through to support and troubleshooting services following installation. We welcome approaches from prospective clients at any conceivable stage of a process, including CNC control upgrade or retrofit to older equipment.
If you are interested in using our services, or if you have any further questions about the development of bespoke control panel design and manufacture, please do not hesitate to get in touch with our team today using our online contact form.
We ask that all prospective clients provide us with as much detail as they can regarding the project in question, including potential dimensions, operating methods and functions. This will help us to accurately tailor our designs to meet your needs.