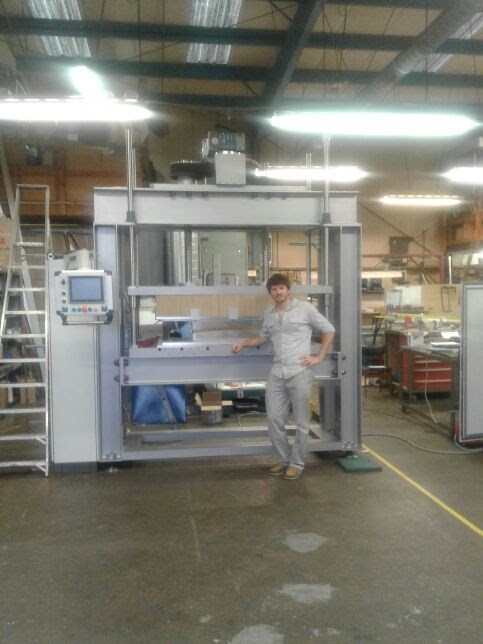 While composites are an invaluable resource within the manufacturing industry, they require sophisticated tooling and fabrication methods to shape them.
At Cambridge Dynamics, we specialise in the manufacture of a wide range of composite presses that are compatible with various composite and laminated materials.
Here, we'll explain a little more about our manufacturing processes and how we work with composite presses that mould and form to an extremely high level of precision.
Composite Materials
Composite presses are used to provide the force and position control that is required to shape pieces of composite material during manufacture.
By "composite material", we refer to a combination of two materials whereby the resulting composite exhibits improved properties, be it strength, durability, rigidity, longevity or even affordability.
Our presses work with many different composite materials, including fiber reinforced plastics or polymers – such as fiberglass or carbon fiber – wood composites like ply, and metal matrixes. Whatever the composite with which you intend to work, it's highly likely that we will be able to supply a solution for you.
Cambridge Dynamics' Composite Presses
A composite press should be designed to work effectively with either a specific composite product or a range of different composites – taking into account the distinct attributes of each material involved for the best possible results.
Cambridge Dynamics provides both off the shelf and bespoke composite press solutions, most often employing advanced ball screw and servo control to provide levels of accuracy and repeatability not available from comparable hydraulic solutions.
We have spent years working with numerous different composite presses, allowing us to develop a thorough understanding of their capabilities and features. Our specialists are experts in both the use and manufacture of machines of this kind.
Why Choose Cambridge Dynamics for Your Composite Press Requirements?
Whether you require composite materials to be fabricated and shaped on your behalf or you are interested in obtaining a press of your own, Cambridge Dynamics is the place to go.
Thanks to our experience in a wide range of manufacturing fields, we are able to quickly and effectively determine the best manufacturing methods to meet your needs. In addition, we are able to provide a full manufacturing solution from tool temperature control to robotic unloading and even CNC trimming of completed parts.
The equipment we use is cutting edge – after all, we understand the importance of remaining at the technological forefront of our field in order to fabricate exceptionally high-quality products that vastly out-perform the competition.
We employ sophisticated CNC (Computer Numerical Control) machinery that can be programmed to the tightest possible tolerance in order to replicate designs precisely.
For this reason, we ask that all of our clients provide us with as much detail as possible regarding their required part or machine. This will help us to ensure the highest achievable level of precision.
To get started, all you need to do is to make contact with the team via our online contact form. We welcome any questions or requests for advice as well as manufacturing applications.