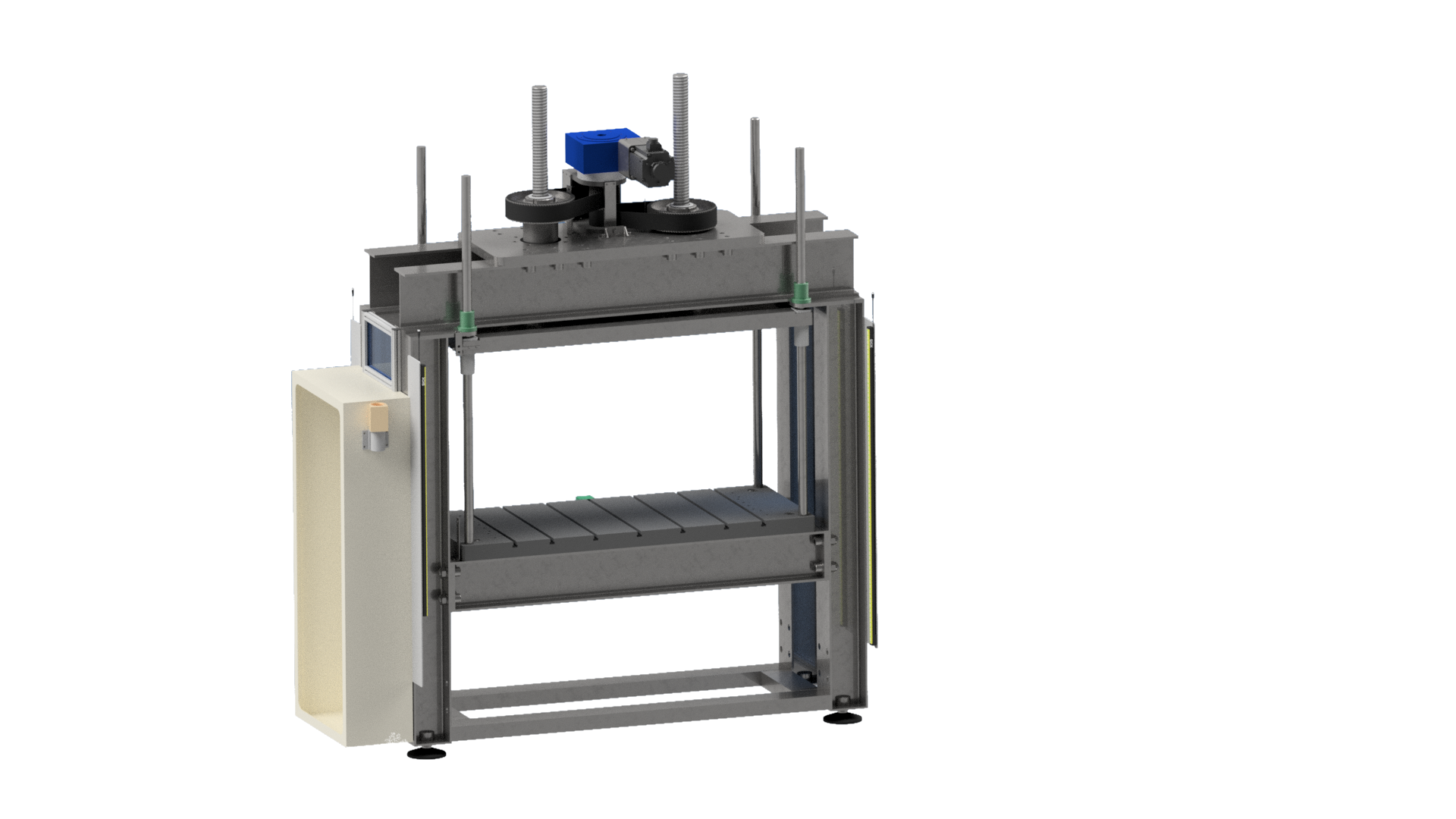 The use of an assembly press is one of the most straightforward and fuss-free methods of securely and irreversibly connecting components or parts, or forming certain elements of a machine or device through the use of pressure.
This approach often requires little to no additional fixing materials and relies solely on powerful natural forces such as friction.
Two components that are to be fixed together using assembly presses are usually shaped so that one has marginally larger external dimensions than the other's internal dimensions. When the first is pressed into the second, they fit in a way that prevents disassembly.
The machine and component fabrication experts at Cambridge Dynamics have comprehensive experience in the use of assembly press machines dating back to the company's launch in 1978.
Here, we'll explain a little more about the assembly press process and introduce you to our techniques, approaches and services.
Industrial Assembly Presses at Cambridge Dynamics
There are many different types of assembly press available – and each can be used for a broad range of applications.
Thanks to the diverse array of skills in which the Cambridge Dynamics team is trained – including the use of mechanical, electrical, mechatronic, hydraulic, and pneumatic systems – we have a comprehensive understanding of the capabilities of machines of this kind.
Depending on the requirements of a particular project, the types of assembly presses that can be supplied include servo driven or pneumatic option. Servo options provide speed, force control, precision and repeatability, while pneumatic options provide simplicity and cost effectiveness.
One of the key aspects of the Cambridge Dynamics method is the significant use of advanced control systems to provide precise, reliable, and repeatable control of each element of the manufacturing process.
CNC options allow your team members to input only the key dimensions and parameters, automating the process and enabling the real-world replication of designs to an exceptional level of precision and repeatability.
Thanks to CNC and advanced 'recipe' systems, we can programme our assembly presses to recall product details quickly and accurately. That enables users of our equipment to produce any quantity of components required, whether the batch size is one off or large volume.
The Services Available from Cambridge Dynamics
Whether your project requires the use of an assembly press or another piece of automation equipment, there are plenty of options available from the specialists at Cambridge Dynamics that will aid your manufacturing process.
We've been in the machine fabrication business for over 40 years – so whether you know the precise parts and components you need from us or you require our advice and assistance in making any decisions, we're here to help you.
Contact us using our online contact form and we'll be able to provide you with the answers you require. Alternatively, get in touch with detailed information about your upcoming project and we'll work with you to determine how we can help.
FAQ's
What are Assembly Presses?

Cambridge Dynamics have been offering assembly presses for over 50 years. They're a unique and effective way of connecting components together for a long-lasting and secure product. The irreversible effects are perfect for creating parts for medical and mechanical industries, to name a few.

When pressed together, materials are unable to disassemble, creating a secure and life-long bond. The ability to create such precise products is incomparable, and it means you can get your desired outcome without having to spend a fortune.

The alternative to using assembly press machines is welding. But this is an expensive option that requires a lot of maintenance, knowledge and professional equipment. Industrial assembly presses – once set up – can produce large volumes of parts for a low cost and minimal maintenance.

The team at Cambridge Dynamics have been expertly trained and our assembly press machines can create precise and reliable results that are highly controlled – you only get the best with us. We offer a professional service with guaranteed repeatability for competitive pricing. All you need to do is tell us your dimensions and our team will produce your products quickly and accurately.

For more information on the services we offer and how we can help you, get in touch today and one of our team will be in touch to answer any of your queries.
What are Assembly Presses used for?

An assembly press machine is a great tool to create, form and assemble products in a number of different industries. The outcome is dependent on the type of assembly press used and your needs.

Assembly press machines are used to make parts for liquid-solid separations in things like meat production, due to their ability to create strong and reliable machinery.

It's important that engineering applications are made to the highest of standards, especially the most intricate parts. A servo-driven press can be programmed to create more of a 'pushing' motion, giving the user much more control over the final outcome, so you can create strong and stable pieces over and over again.

A pneumatic press is known for creating parts that rivet and marking sections of material to be able to slot into other sections, creating important mechanisms. They can be used at high speeds and are very easy to use. In laboratories and workshops, pneumatic presses are commonly used to create high quality, long-lasting steel parts.

Durability is key when making parts for bits of machinery and laboratory equipment, which is why assembly presses are so well used in niche and expert industries.

At Cambridge Dynamics, we offer our services to a wide range of clients, so don't hesitate to enquire – whatever your business. Get in touch now or fill out an enquiry form and a team member will be in touch to help you with anything you need.
How does an Assembly Press work?

Assembly presses are made up of a ram (which applies the force), frame (the secure mount to hold items in place) and platen to create intricate and precise movements which connect various components.

There are a few different types of assembly press available, here at Cambridge Dynamics, and they all work in slightly different ways to produce various results.

Servo-driven assembly press machines use a ball screw to impart linear motions into the press ram. The quality of the press makes it easier to control the device, reducing scrap metal and improving the overall result, making it a popular choice.

Pneumatic presses use compressed air to power them. The force of the press is consistent throughout the ram stroke and can be controlled using valves to ensure safe use. It's a high speed and low-cost option for bulk production.

Due to its advanced control systems, assembly press machines can create large volumes of the same press without sacrificing precision. It's a reliable process, so you can expect a quality result every time.

If your project requires an assembly press, Cambridge Dynamics are here to help. We've been providing expert services to a wide range of clients for over 40 years, so you're guaranteed reliable and professional service. Whatever you're requirements, we're confident we have an option available for you.

For more information on how we can assist with any of your assembly press needs, call now on 01480 459555 or email us at enquiries@cambridgedynamics.co.uk with any of your questions and one of our team will be in touch as quickly as possible to help you out.