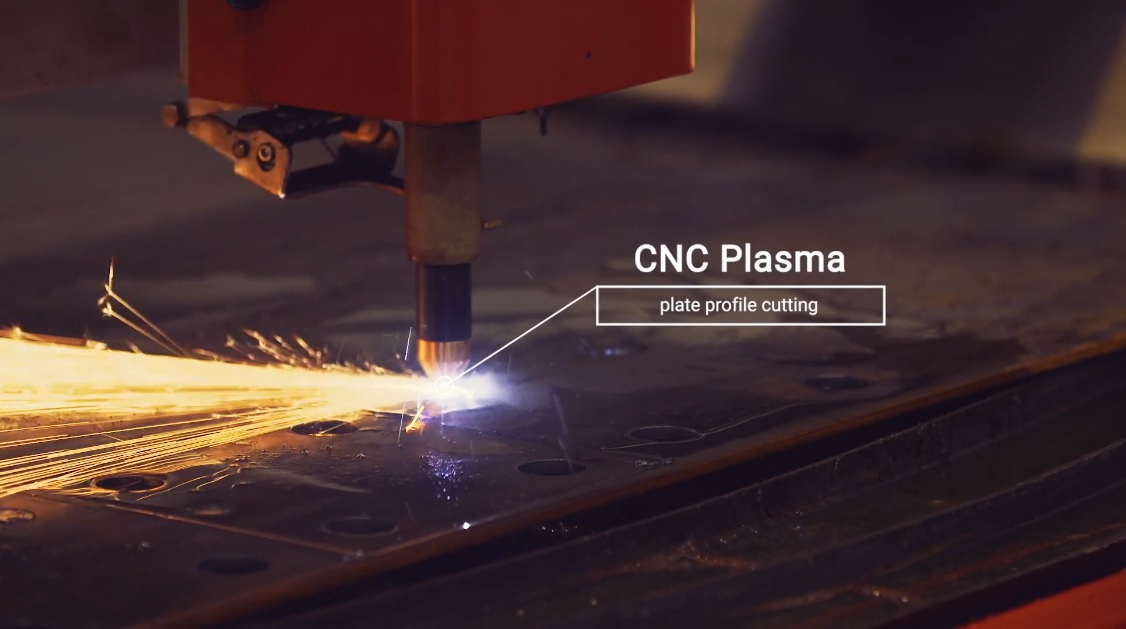 CNC profile cutting involves the use of plasma, oxyfuel, gas or highly pressurised water to cut shapes out of sheets or plates of metal.
At Cambridge Dynamics, we provide a bespoke CNC profile cutting service to meet the most precise of specifications. Read on to find out a little more about the process of profile cutting and to learn about the services we offer.
You should also feel free to browse our other disciplines to discover the other ways in which we can support your project.
Using a CNC Profile Cutter
Profile cutting involves the use of a specialist machine "table" on which a plate or sheet of metal is placed flat. Upon command, a nozzle on the machine releases a concentrated jet of plasma, gas, oxyfuel to cut the metal.
The arm on which the nozzle is mounted can move in any desired direction on a horizontal plane to accurately "carve" a precise shape without burrs, scratches or chips.
Because we use a highly accurate CNC profile cutting machine, the team at Cambridge Dynamics are able to automate this process, programming in extremely accurate dimensions to ensure a perfect result every time.
Due to the level of accuracy we are able to achieve, the same shape can be replicated perfectly over and over again.
Our Products
Thanks to the sophisticated automation and streamlined nature of our processes, Cambridge Dynamics is able to produce any quantity of profile-cut material, from one-offs to large quantities.
We use the latest CAD/CAM technology and the most up to date CNC machinery to provide industry-leading services, making Cambridge Dynamics the go-to manufacturer of anything from individual parts to full assemblies.
Use Cambridge Dynamics for All Your Machine and Component Manufacturing Needs
Launched in 1978, Cambridge Dynamics has remained at the forefront of machine manufacturing ever since. We keep on top of every advancement in the world of machinery design, fabrication and finishing, providing our clients with only the very best results.
As well as exceptionally accurate CNC profile cutting, we are able to provide milling and turning services for individual components or large runs, as well as the design, manufacture, assembly, testing, finishing and delivery or entire bespoke machinery systems and solutions.
We can even design your control systems, tying each element of your processes together neatly and accurately.
How to Use Our CNC Profile Cutting and Other Services
To learn more about the way in which we work and the services we provide, simply get in touch with the Cambridge Dynamics team today using our online contact form.
Please provide as much detail as you possibly can when describing a project to us, as this will help us to determine exactly what you need and how best to fabricate the required components.
We are able to design and manufacture components and entire machine assemblies to exceptionally tight tolerances based on detailed specifications. The satisfaction of our clients is vital to us, so we welcome any and all questions and requests for advice.
FAQ's
What is CNC profile cutting?

CNC profile cutting is now one of the most popular cutting processes in the metalworking industry.

Using a specialist machine, concentrated chemicals are used to create intricate cuts into sheets of metal. With newer technologies and machine advancements, we now have access to some of the most sophisticated systems to give you accurate results every time – CNC profile cutting is a bespoke service that guarantees precision without scratches or damage.

CNC profile cutting machines are the perfect option if you require a cost-effective yet exact metal cut. With no pre-heating needed, CNC profile cutting is fast and efficient – saving you both time and money, especially if you want large quantities produced in a short space of time.

One of the key benefits of CNC profile cutting is how safe it is. Because it's an automated process, it requires minimal operation and doesn't need regular complex adjustments like a lot of other machinery.

Many industries choose to use CNC profile cutting for their materials because of how precise and versatile it is. Metals can be cut to any thickness and shape while delivering clean, sharp edges – the risk of human error is eliminated with CNC profile cutters, so you never have to worry about irregularities.

For more information on how Cambridge Dynamics can help you with all your CNC profile cutting needs, simply call us on 01480 459555 to speak directly to one of our experts. If you prefer, you can email us at enquiries@cambridgedynamics.co.uk with any of your questions, and a member of our team will be in touch shortly to discuss your options.
What is CNC profile cutting used for?

Due to how versatile and precise CNC profile cutting is, it's favoured by many industries to produce a wide range of equipment and machinery parts.

CNC profile cutting machines are able to produce intricate and sophisticated designs, making the process ideal for creating elements of machinery that require detailed cuts in order to work effectively.

It's also commonly used in the medical world. With surgical and dental tools, it's vital each shape is cut to perfection so there is no room for error. By using a CNC profile cutting machine, you'll have the peace of mind that each time you come to Cambridge Dynamics, you'll leave with exactly what you came for.

With motor engines, it's imperative components are cut to exact measurements – if one part isn't right, it could have a negative effect on the working order of the whole engine. By using a CNC profile cutter, you can be confident each part is cut exactly how you need it.

Considering how CNC profile cutting can produce exact shapes in such large quantities, it's a very affordable way of producing high-quality metal parts that you'll struggle to find anywhere else.

And it's not just engine parts and surgical equipment, CNC profile cutting can be used for signage and wall art too. Using the machine means you're able to programme your exact measurements into our CAD/CAM systems to create large pieces of work in your chosen thickness.

If you want to discuss if CNC cutting is right for your project, don't hesitate to get in touch today.
How does CNC profile cutting work?

CNC profile cutting works by using plasma, oxyfuel, gas or highly pressured water to create shapes out of metal sheets or plates.

The metal is placed into the CNC profile cutting machine and when instructed to do so, a nozzle will release a concentrated jet of the chosen chemical to cut out your chosen shape, without causing chips or stress breakages.

As CNC profile cutting works using a computer, you can input your exact measurements to produce extremely accurate shapes every time – it's a popular choice throughout a number of industries because of how reliable and cost-effective it is compared to other cutting machines.

At Cambridge Dynamics, we use top of the range CNC machinery and the latest CAD/CAM technology to programme your desired shapes. This allows us to produce anything from individual parts to full assemblies in quick succession.

We put the customer first here, which is why we'll work alongside you to create the perfect design that can be replicated time and time again. With Cambridge Dynamics, you're guaranteed neat and accurate results with our CNC profile cutting machines – our team of experts will help you with everything you need before, during and after booking an appointment with us.

If you have any further questions about CNC profile cutting, how it works or what it can be used for, don't hesitate to get in touch today. We have a team of experts on hand who are always happy to help.